Blackjack Strategy Chart: Dealer Hits on Soft 17
Your
Dealer's Card
Hand
2
3
4
5
6
7
8
9
10
A
8
H
H
H
H
H
H
H
H
H
H
9
H
D
D
D
D
H
H
H
H
H
10
D
D
D
D
D
D
D
D
H
H
11
D
D
D
D
D
D
D
D
D
D
12
H
H
S
S
S
H
H
H
H
H
13
S
S
S
S
S
H
H
H
H
H
14
S
S
S
S
S
H
H
H
H
H
15
S
S
S
S
S
H
H
H
X/H
X/H
16
S
S
S
S
S
H
H
X/H
X/H
X/H
17
S
S
S
S
S
S
S
S
S
X/S
A,2
H
H
H
D
D
H
H
H
H
H
A,3
H
H
H
D
D
H
H
H
H
H
A,4
H
H
D
D
D
H
H
H
H
H
A,5
H
H
D
D
D
H
H
H
H
H
A,6
H
D
D
D
D
H
H
H
H
H
A,7
S
DS
DS
DS
DS
S
S
H
H
H
A,8
S
S
S
S
S
S
S
S
S
S
A,9
S
S
S
S
S
S
S
S
S
S
2,2
SP
SP
SP
SP
SP
SP
H
H
H
H
3,3
SP
SP
SP
SP
SP
SP
H
H
H
H
4,4
H
H
H
SP
SP
H
H
H
H
H
5,5
D
D
D
D
D
D
D
D
H
H
6,6
SP
SP
SP
SP
SP
H
H
H
H
H
7,7
SP
SP
SP
SP
SP
SP
H
H
H
H
8,8
SP
SP
SP
SP
SP
SP
SP
SP
SP
X/P
9,9
SP
SP
SP
SP
SP
S
SP
SP
S
S
10,10
S
S
S
S
S
S
S
S
S
S
A,A
SP
SP
SP
SP
SP
SP
SP
SP
SP
SP
Chart Legend
Our default chart is built around the conditions we see most often on the Las Vegas strip:
Multiple decks.
Double down allowed on any 2 cards.
Double after splits allowed.
Dealer hits soft 17.
| | |
| --- | --- |
| H | Hit |
| S | Stand |
| D | Double if allowed, otherwise Hit |
| DS | Double if allowed, otherwise Stand |
| SP | Split |
| X/H | Surrender if allowed, otherwise Hit |
| X/P | Surrender if allowed, otherwise Split |
| X/S | Surrender if allowed, otherwise Stand |
Blackjack Rules
The player has an edge if the casino dealer has to stand on soft 17. If the casino dealer gets to hit a soft 17 then we have some different decisions from most charts out there and they all involve the ace:
Double 11 versus ace.
15 versus ace is surrender instead of hit.
17 versus ace is surrender instead of stand.
A,7 (soft 18) versus 2 is double down instead of stand.
A,8 (soft 19) versus 6 is double down instead of stand.
8,8 versus ace is surrender if allowed, otherwise split.
It is important to know which rules are more important than others. The World's Greatest Blackjack book talks about this on page 55. Here are the key rules that are favorable to the player in order of importance:
Early surrender
Doubling on any 2 cards
Drawing any number of cards to split Aces
Doubling allowed after pair splitting
Surrender
Here are the key rules that are unfavorable to the player in order of importance:
Two or more decks
Dealer hits soft 17
No soft doubling
No re-splitting of Aces
Blackjack Tips
You can vastly improve your odds of winning by following a few basic tips:
Always follow a chart based off the games rules you are playing.
Memorizing the actions is one way to get better, but you can improve even faster by practicing on a blackjack simulator.
Never take insurance.
Never put money on any side bets as these are hugely -EV.
Always make sure you have enough chips for double downs and splits.
Don't sit at third base (the last seat on the left) if you're playing with drunks because they'll blame their "bad luck" on your decisions.
Learn how to keep a basic Hi-Lo count.
Improve Your Game for Free!
The only way to get better at Blackjack is to practice. However, if you only practice at a casino, you won't be sure if the time you're putting in is benefiting you. What if you're making the same mistake over and over? The casino surely won't tap you on the shoulder and explain to you the best play – they want you to play worse!
Check out this Blackjack Strategy Trainer – it is extremely helpful. This trainer simulates a real blackjack table that you will find at a casino or online but also tells you when you make a right or wrong move. Did you hit those pair of 4s against a 5? You were actually supposed to split! For every action you make, we tell you if that action was the best choice or not.
Then all you have to do is keep playing, and eventually you will be playing optimally. The trainer also keeps track of your overall score so you know you're getting better.
Heading to Vegas and want to sharpen your game? Or do you want to make sure you're getting the most out of an online bonus? Visit our trainer and play a few hundred hands per day. It won't take long and will take your blackjack game to the next level!
Once you practice and become a blackjack expert, it's time to put that skill to use and earn some cash. Did you know some online casinos offer cash bonuses that can be cleared by playing blackjack? This means the casino will give you money for free, just by depositing and playing. However, not all casinos allow players to earn their bonuses by playing a strategy game like blackjack. But don't worry, we know which do!
Redeem the Raging Bull no deposit bonus code at https://usacasinocodes.com/raging-bull-no-deposit-bonus-codes/ and get a $750 free chip! Find more free chip offers at USA Casino Codes.
Find other reviews of the top USA online casinos at OnlineCasinoUSABonus.com.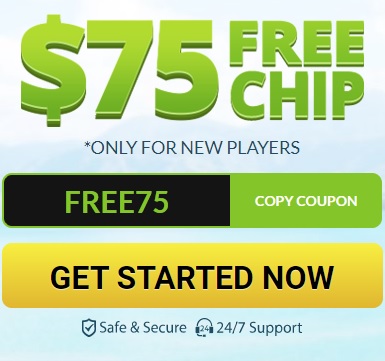 Find reviews of the top USA casino sites at CasinoSitesUSA.com. USA players can play blackjack for real money.
Blackjack players tend to also like poker and fantasy sports (at least I do!). For poker, we recommend visiting FlopTurnRiver.com for poker strategy discussion and online poker promotions.